The initial and ongoing satisfaction of the end user is the goal of every business. Olabs dedicated to achieve customer satisfaction and to establish a lasting business relationship by delivering superior customer values.
Olabs committed to offer
flexible
network physical infrastructure solutions that bring about customer values by reinforcing the concept of flexibility, modularity and integration. We drive to enable organizations to manage their most vital network system through our highly reliable and market competitive product solutions. Our flexible solutions address the needs and requirements for today's and tomorrow's network infrastructure, by adapting to rapid network growth and new technologies that push network limits.
We help you reach your mission-critical objectives!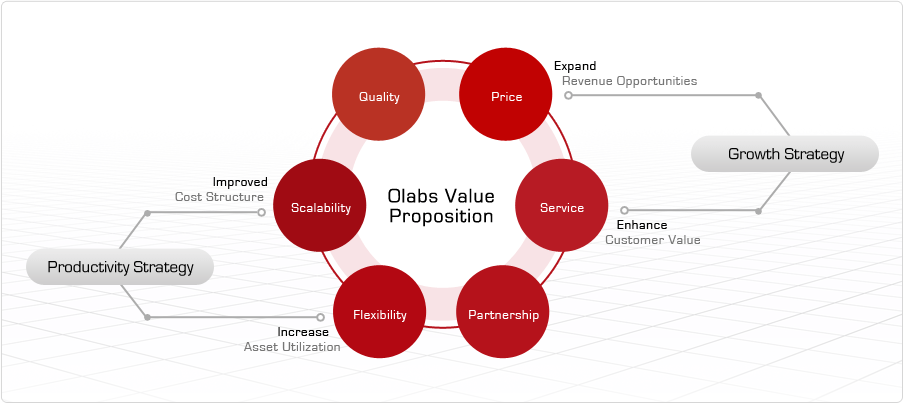 COMMITTED TO QUALITY | MARKET COMPETITIVE PRICING

We are committed to providing excellent product solutions that anticipate and exceed our clients' expectations. Our long-term commitment to quality begins with executive endorsement and continues throughout the organization. We strive for continuous improvement on product, quality, flexibility, and competency of the products and services we supply. Without compromising quality and scarifying market competitiveness, we work out the best balance to offer our product solutions in innovative and cost effective ways, so as to maximize profits of our clients.

With our superior product quality and market competitive pricing, we aim to support you to expand revenue opportunities by enhancing Return on Investment (ROI) and improving Total Cost of Ownership (TCO), thus helping you to be one step ahead of competition.

STRATEGIC PARTNERSHIP | COMMITTED SERVICE

We work in close collaboration with clients by delivering professional know-how and experience in manufacturing and supply of innovative and market-focus product solutions. By addressing real market needs and keeping close track on the latest technology trends, we work as strategic partner of our clients to overcome the challenges of today's ever-changing IT technology development. We aim to increase flexibility in the decision-making process of our strategic partners, from the decision on the best deployment of product solutions, to the decision of new product development endorsement. Our goal is to enhance end-user's satisfaction and to optimize customer values.

Olabs is dedicated to provide optimal product solutions by combining our extensive knowledge with our passion for providing excellent customer service before, during and after the sales. With service orientation in mind, we continuously seek to improve each customer's experience by listening and striving to exceed our commitments.

SCALABILITY | FLEXIBILITY

The foundation of design of our product solutions is to optimize network physical infrastructure by emphasizing scalability and flexibility. Our structured cabling and rack solutions are designed in a modular and scalable manner to match ever-changing needs of network development. They are engineered and designed by following the principles of simplicity, yet providing a flexible, versatile and reliable solution for your most stringent applications. Our product solutions are flexibly accommodative to other brands coherent solutions in part or in whole. With customer-driven custom adaptation in mind, our flexible solutions support you to improve cost structure and to enhance asset utilization.

Our solutions achieve its scalability and flexibility through these inherent qualities, not only support you to minimize the upfront cost, our modular design rack solutions and comprehensive fiber and copper series help in providing highly flexible mix-and-match bundling feature that minimize ongoing expansion cost, resulting in a greater Return on Investment (ROI), and at the same time improving reliability and availability of the infrastructure that optimize Total Cost of Ownership (TCO).