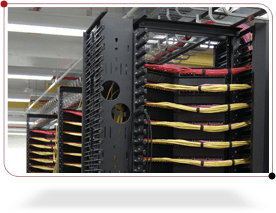 Data centers are rapidly becoming a strategic type of investment, driven by the need to support business and mission-critical operations of your company. Companies need to operate in an environment where service reliability and performance of their data centers is of utmost importance to support their ongoing business operations. Every part of the data center design and infrastructure is equally important to realize these goals and realize a return on investment (ROI), protecting your investments.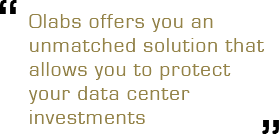 With Olabs' structured cabling solutions, you will achieve your ROI with advanced cabling solutions of the highest quality and of maximum reliability. Our advanced structured cabling solutions support all your data center needs, whether it will be deployed in a Tier 1 or a Tier 4 data center. Our high-density fiber optic solutions allow you to save floor space and improve energy efficiency by improved air flow and cooling. This ultimately leads to a greener data center for you.
Olabs offers you an unmatched solution that allows you to protect your data center investments. We are your total solutions provider, offering our expertise and analysis to solve your data center problems. You will realize the most of your data center budgets, allowing you to achieve higher heights. Essentially, this enables you to have a "do more with less" mentality.